Vendutiekraal partnered with Paltrack to develop and pilot the newly created PALPACK GRAPES solution during their 2017/2018 grape season.
The Badenhorst family owns three grape farms namely Vendutiekraal and Non Pareil in the Hex Valley area, and Leeuwenhoek in Porterville. Lucas Badenhorst overseas the business, with his brothers managing the individual farms. The farms produce approximately 600,000 cartons of tables grapes for export annually. With the investment at Leeuwenhoek, the expectation is that this will increase to 800,000 cartons during the next grapes season.
PALPACK Grapes is a software solution developed specifically for the grape packhouse environment. It provides the client with full management, visibility and traceability of product; from where it's received at the packhouse throughout the packing process and up to finished goods shipping.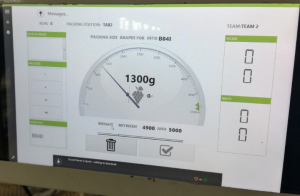 The solution provides for:
Intake of grapes on farm via a mobile device
Bulk deliveries at the packhouse
Weighing of crates received
Tablet interface with scales, On-Demand Label printing and Packer Performance Management
Mobile Production Dashboard
RF carton scanning at the palletizing stations
SOLAS Integration
PPECB Inspection processes with TITAN Integration
Packing material inventory control
Dispatching of finished goods
Vendutiekraal was keen to pilot the solution as this would give them the opportunity to overcome previous short comings. The management of Vendutiekraal wanted a better understanding of the production and output; to make informed business decisions and create improved visibility within their business.
Ockert Vermeulen, Packhouse Manager at Vendutiekraal says, "As with any new system, we did experience some issues during the implementation phase, but I was very impressed with the commitment from Paltrack and its staff to help overcome these issues. They were always available and willing to assist us, fixing the problems as and when required. Change management was one of the biggest challenges but by working together step-by-step, this was achieved.
The main benefits we saw at the end of the season were greater visibility in terms of production output, packer transactions and waste but also improved target weights of punnets and cartons."
Ockert added, "We are looking forward to a Phase Two. This will include further refinements of the tablet processes to automatically deduce the weight of the container being packed and the introduction of QR Codes on punnet and possibly carton labels."
Please do not hesitate to contact Jeanette Jenkins, Sales and Marketing Manager at Paltrack on (021) 818 4200 or email: jeanette@paltrack.co.za, should you require more information about the solution.