Nothing is more traditionally South African than a potjie and good company. It was time again to get those coals blazing, gather our customers to get the party stirring.
In 2016, Paltrack kicked off their Potjiekos Competition in Citrusdal which has now become the annual event in Citrusdal.  2017 proved to be an even greater success.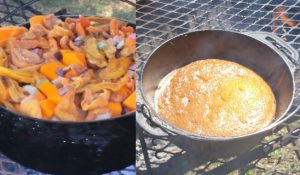 THE culinary skills of potjie enthusiasts were on display at the competition between our customers and sponsors.  This year seemed to be the year of lamb pots floating between the competitors with a slight variation of venison and chicken.  And let's not forget the secret ingredients that ranged from liquorice-all-sorts to fish-paste.
Judges soaked up the unique presentations, tasted excellent food and scored points.  But the competition was fierce which did not make their job easy.  In the end Cedarpack walked away with the trophy for their sweet venison pot and their excellent presentation skills.  The "Nagmerries" (aka Mouton Citrus) came in second place.  Quattro Citrus #1 came third and Datalogic walked away with the "Cast Iron Cooking for Dummies" prize.
Without our sponsors, Datalogic and Zebra/Westcon the event would not have been as successful and for that we extend our appreciation.
Excitement is already building up for the next competition to be hosted in 2018.
About Paltrack:
Paltrack is a leading supplier of software solutions, product coding and integration services to the South African agricultural industry. Our focus is on supply chain visibility from producer to port, and we build and source software solutions that meet our unique customer's needs through all market verticals. Our primary clients are in the fruit and aquaculture industries, but our software is agile and customizable for most traceability requirements.