Paltrack recently extended their packhouse management solution, PALPACK, to include the ability to do bin intakes in the orchards on Android mobile devices.
The app allows for the capturing of typical bin card detail in the orchard and transmits that information to the packhouse before the physical load arrives.  This flow of information serves as early warning of loads in transit and furthermore contributes to the accuracy of the information recoded as part of the packhouse receiving process.
The mobile user registers the device once the application is opened for the first time.   Master files are sync'd onto the device.  Whilst in the orchard, the user creates a new dispatch and the transaction is validated against the master files on the device.  Drop down menus for PUC, orchard, commodity, variety, bin type and bind brand are provided for.  The drop-down menu will only display the master files that is applicable to the specific orchard.  The number of bins to be scanned is specified as art of the process.  The bins are scanned and validation ensures that the specified quantity cannot be exceeded or bins duplicated. Once done, the user submits the bin intake. On farm drenching is also catered for.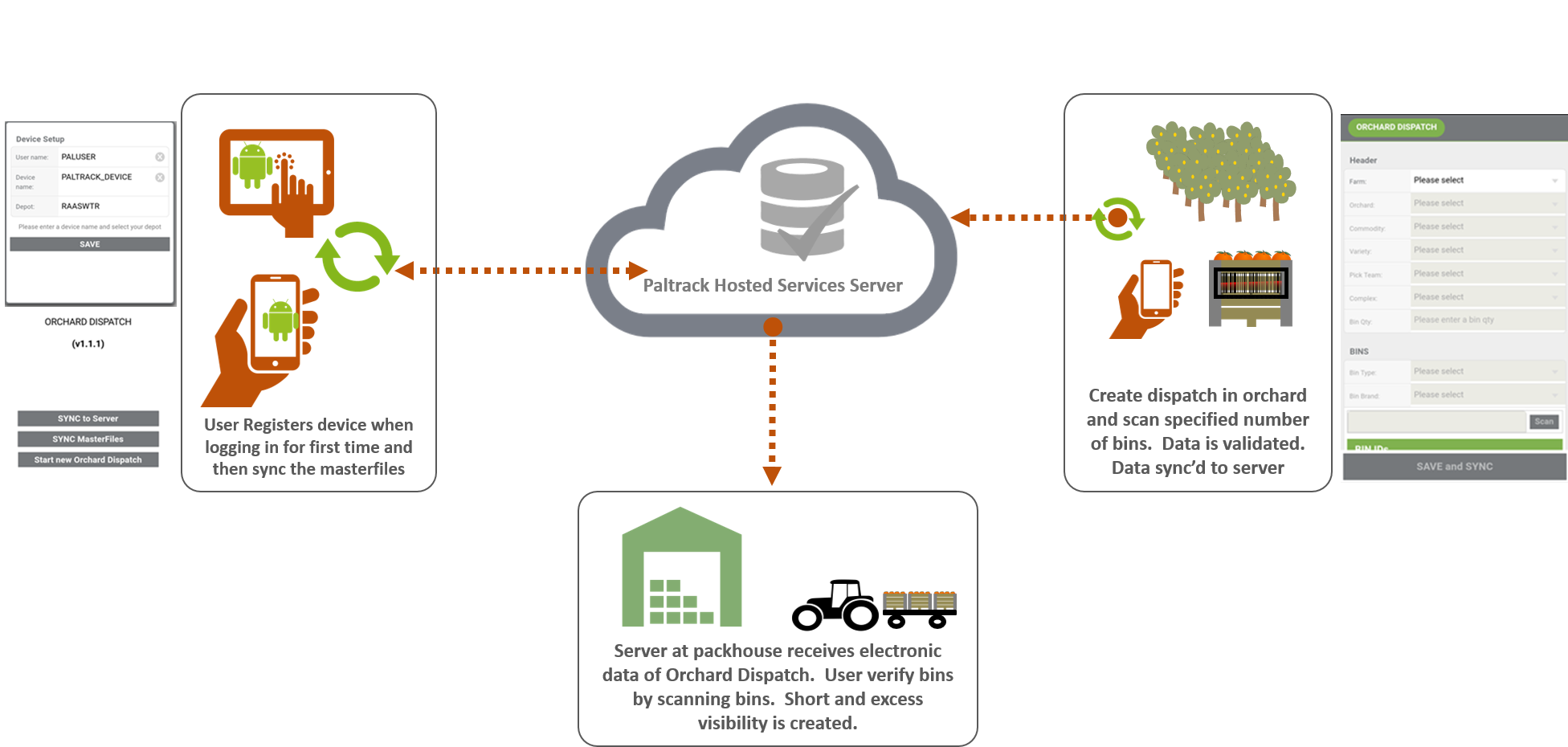 Once the bin intake has been submitted from the mobile device, the electronic data will be sent via the Paltrack hosted services to the packhouse.  If no signal is available, the data will be stored on the mobile device.  When the device is in an area where coverage is available, the user can initiate a sync that will transmit the data to the packhouse.
On the PALPACK Bulk Delivery screen at the packhouse, the PALPACK user will have visibility of all the orchard dispatches en-route.  A delivery is then created in PALPACK based on the info received.  The user can verify the bins by scanning the bins at the packhouse.  The system then flags each bin as verified and correct.  Any short and excess situations are highlighted.  Once the delivery has been created and finalised the bins will reflect as stock.
Please do not hesitate to contact Jeanette Jenkins, Sales and Marketing Manager at Paltrack on (021) 818 4200 or email: jeanette@paltrack.co.za, should you require more information about the solution.