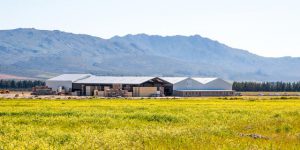 Quattro Citrus, a subsidiary of the Munoz Lona Group, is situated in Citrusdal.  Quattro Citrus primarily packs citrus for the AMC Group and the local market and have been a PALPACK STD customer of Paltrack since inception.  Their operations have grown extensively and they therefore needed their operational system to grow with them.  The decision was made to upgrade the PALPACK STD packhouse application to the PALPACK PRO level.
Arno Mouton, Director of Quattro Citrus, says, "With Quattro Citrus ever evolving and growing, the PALPACK STD program needed to be upgraded to service all our requirements and volumes. With the start-up of our local market line in the middle of the season we quickly realized that the standard level program will not be able to provide us with all the real-time information and tracking we need. Because we were running two sites on the same premises and were handling the same intake fruit at different stages at the two sites and with stock in cold storage the upgrade was the logical step.
Although the PALPACK PRO package is significantly more expensive the program is more tailored to our needs and helped us with better traceability and improved reconciliation systems to insure more accurate and real-time information.  The additional functionality in PALPACK PRO gives us more information and has more checks and balances to keep human errors to the minimum. The optimal use of scanner technology also save time and streamline the dispatching processes. The stock program helps with real time data on cartons, packing material, bins and lugs. The managing of stock to optimal levels saves Quattro a lot of time and money.
The upgrade happened in the middle of our season. It was really the busiest time of the year for us. Not the ideal time to change your packhouse traceability program. As expected, the upgrade process was not all smooth-sailing when doing this kind of system upgrade in the middle of the season.  We did experience problems but we had a Paltrack team at our disposal 24 hours a day to iron out any problems and tailor the program to our needs. There was a training team send out to Quattro to give training to all the PALPACK users.
We look forward to working with Paltrack to customize PALPACK PRO even further to cater further for all Quattro Citrus's needs. We are also looking forward to next season because it will be the first full season with PALPACK PRO.  There will be a recap meeting at the end of the season to iron out any problems and make necessary changes. Pre-season testing will be done prior to the next season start up with the Paltrack team to insure we are ready for the season."
About PALPACK:
PALPACK is a comprehensive software solution developed for the fresh produce packhouse environment. It provides clients with full management, visibility and traceability of product from bulk receiving at the packhouse throughout the packing process up to finished goods warehousing and shipping.
The solution provides for:-
Bin receiving, handling and storage
Empty Bin Movements
Degreening and Drenching Management (Citrus)
Pack Run Configuration, Packout and Management Reporting
Pre-Sorter Integration
Scale Integration
Label Generation (standard, Print-On-Demand, Peel-and-Present, in-Line Label generation)
Carton Management Module (on-demand label generation with RF carton and dispatch scanning)
Inspection Management (integrates with TITAN)
Quality Control for Deliveries, Production and Stock
Packer Performance Management
Packhouse Inventory Control
Broker Sales Management
Packing and Loading Instructions
Finished Goods Stock Management
Financial Functionality and Third party System Integration
Various Scanning Technologies
Report Generation
Dashboards Services
Administration
PALPACK is offered in various versions, depending of the functionality required at a specific customer.
About Paltrack:
Paltrack is a subsidiary of Resolve Solution Partners, an Imperial group company. We are a leading supplier of software solutions, product coding and integration services to the South African agricultural industry. Our focus is on supply chain visibility from producer to port, and we build and source software solutions that meet our unique customer's needs through all market verticals. Our primary clients are in the fruit and aquaculture industries, but our software is agile and customisable for most traceability requirements.