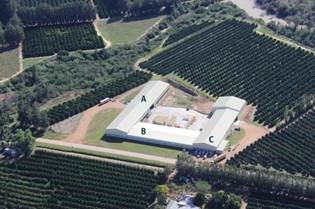 Dr Hennie Ehlers, owner of 2 Rivers started citrus farming 20 years ago in Kirkwood. The business has subsequently grown from citrus farming to include a packing operation and nursery. They make use of the services of Freshgro as exporter and market agent. In order to fully utilize the capacity of the packing operation, they pack for six other producers and load containers at the packhouse.
Currently, 2 Rivers produce and pack 12% Lemons, 40% Navels, 18% Soft Citrus, 25% Midnight-Valencias and 5% Star Ruby Grapefruit. The fruit is packed under the 2 Rivers and Freshgro brands.
2 Rivers recently implemented the Paltrack's PALPACK PRO solution at their packhouse. "Since 2014, 2 Rivers Packhouse has expanded in order to handle increased fruit volumes," says Dr Ehlers. "New buildings were added to the packhouse, as well as degreening and cooling facilities. Also, we have bought another two farms of 120 ha, so our total area under citrus is just over 300 ha."
Since 2 Rivers is containerising 95% of the fruit at the packhouse, it is of utmost importance that the correct pallets are loaded out. Currently, 2 Rivers handles more than 10 000 pallets a season.
"We therefore decided to implement the latest PALPACK PRO solution from Paltrack," says Dr Ehlers. "The solution provides us with better visibility and stock control. Our loadout business processes and the functionality in the system ensures accurate loading of pallets, reducing loadout costs at the same time. Credit must go to my son, Hennie Jnr, Caroline Stander and the Paltrack team for a successful implementation of the system in the packhouse."
Click here to read more about PALPACK PRO